SwatiManish Lehengas - Collection June 2019. Price on request.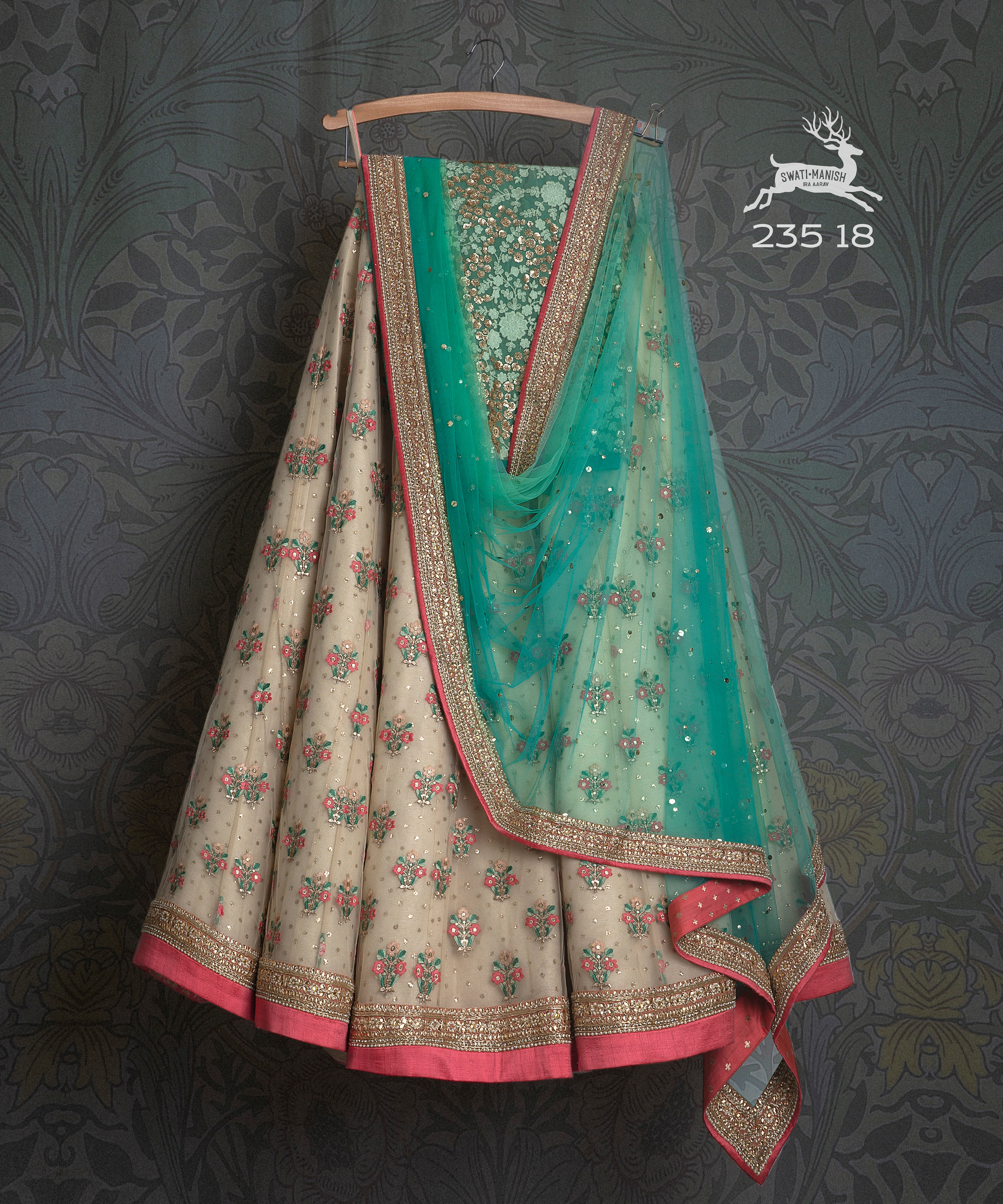 SMF LEH 235 18 | Ivory threadwork glitter lehenga with shaded sea green blue badla dupatta and floral threadwork sequin blouse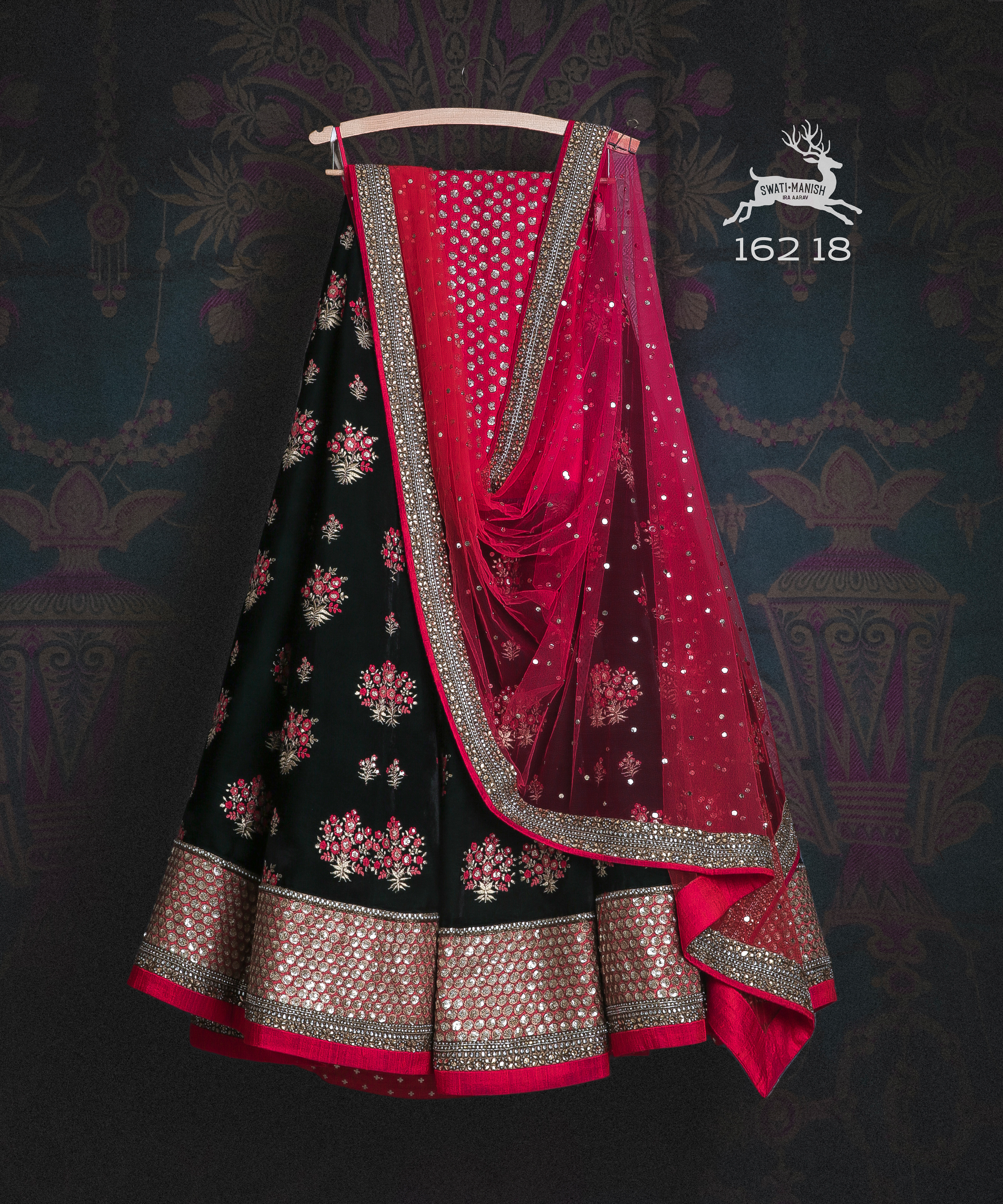 SMF LEH 162 18 | Deep bottle green velvet lehenga with pink-red shaded badla dupatta and moti sequin rani blouse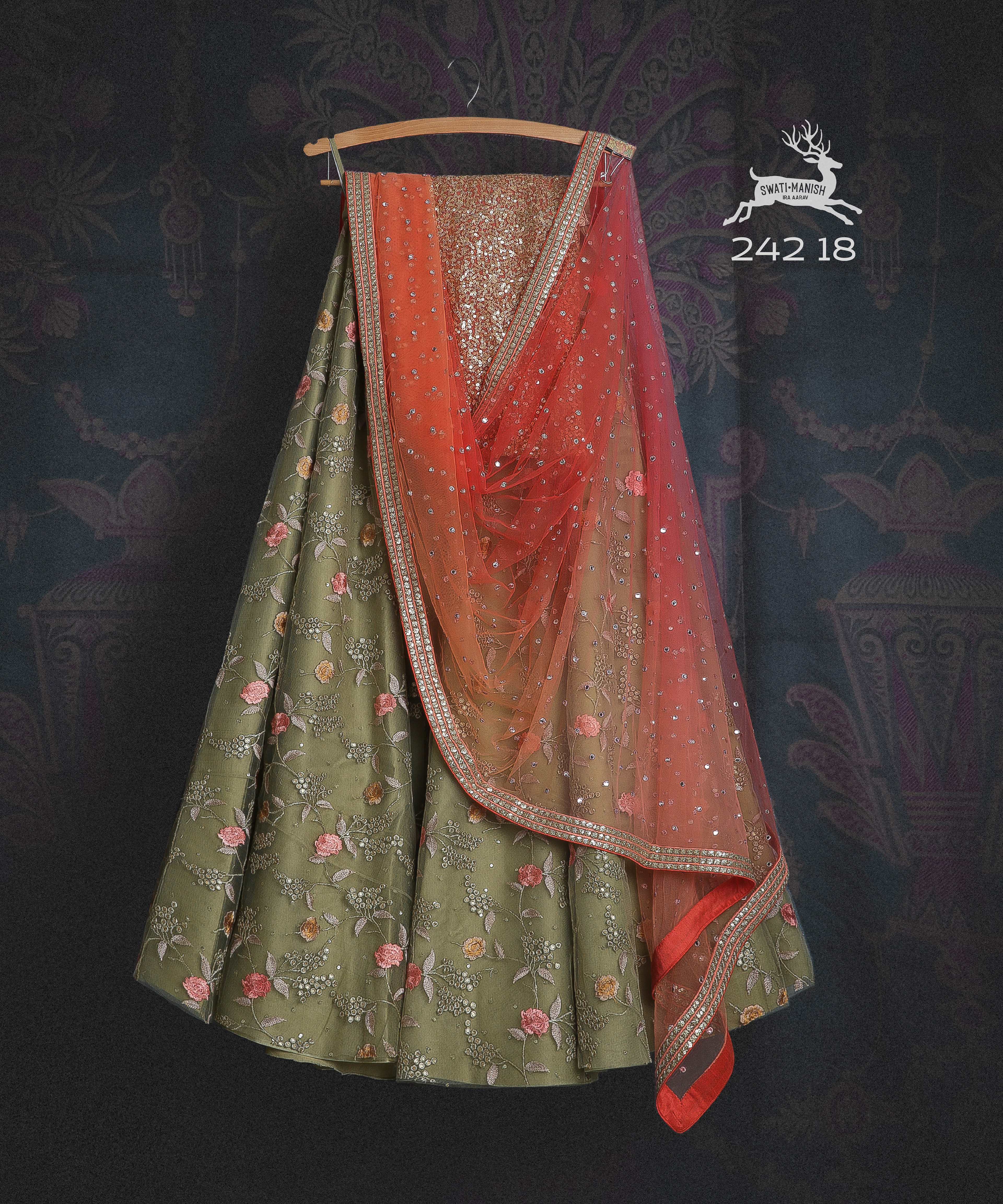 SMF LEH 242 18 | Olive green floral lehenga with shaded coral orange mirror dupatta and light gold sequin blouse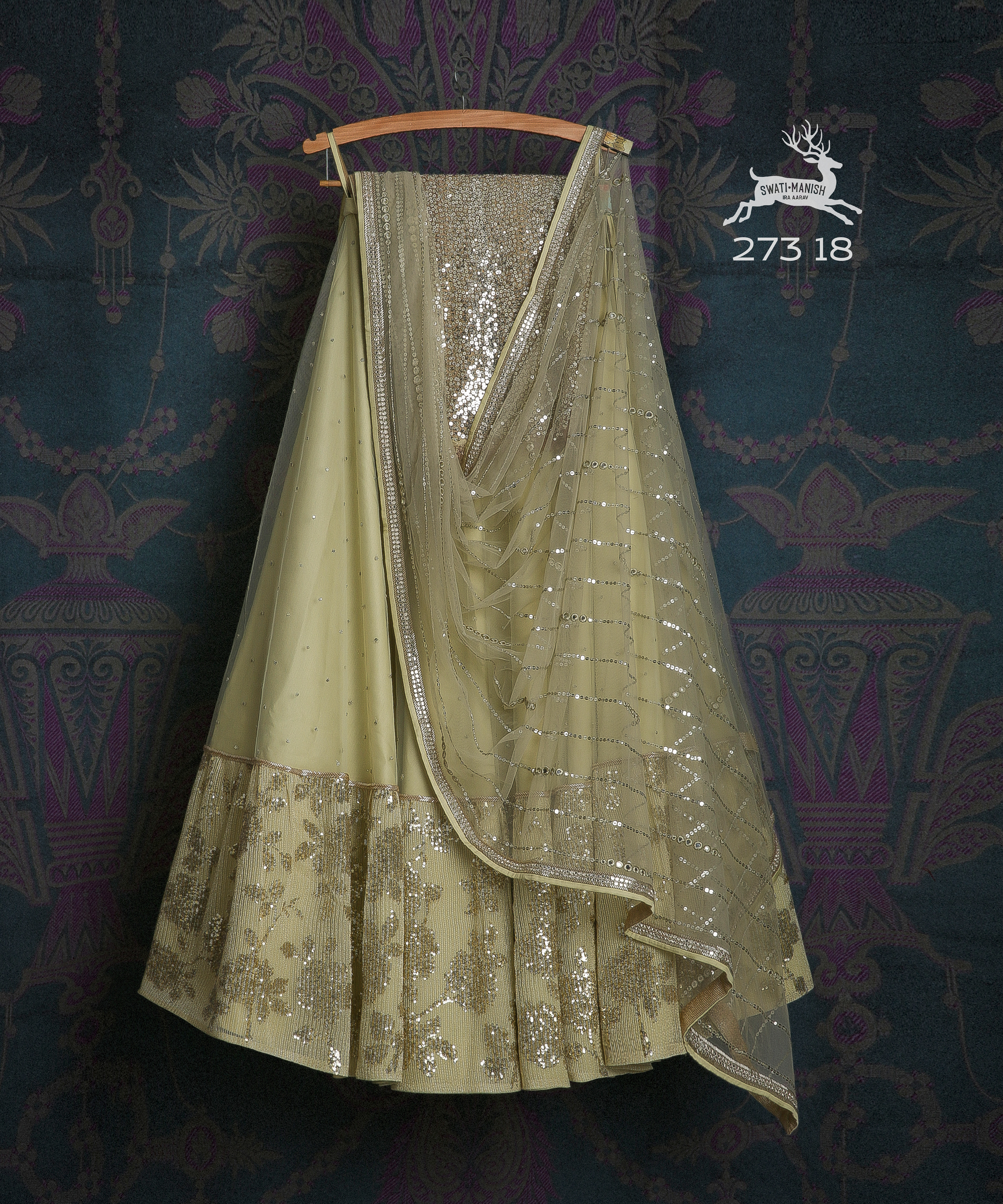 SMF LEH 273 18 | Snow green sequin lehenga with mirror sequin dupatta and sequin blouse (2 pieces available)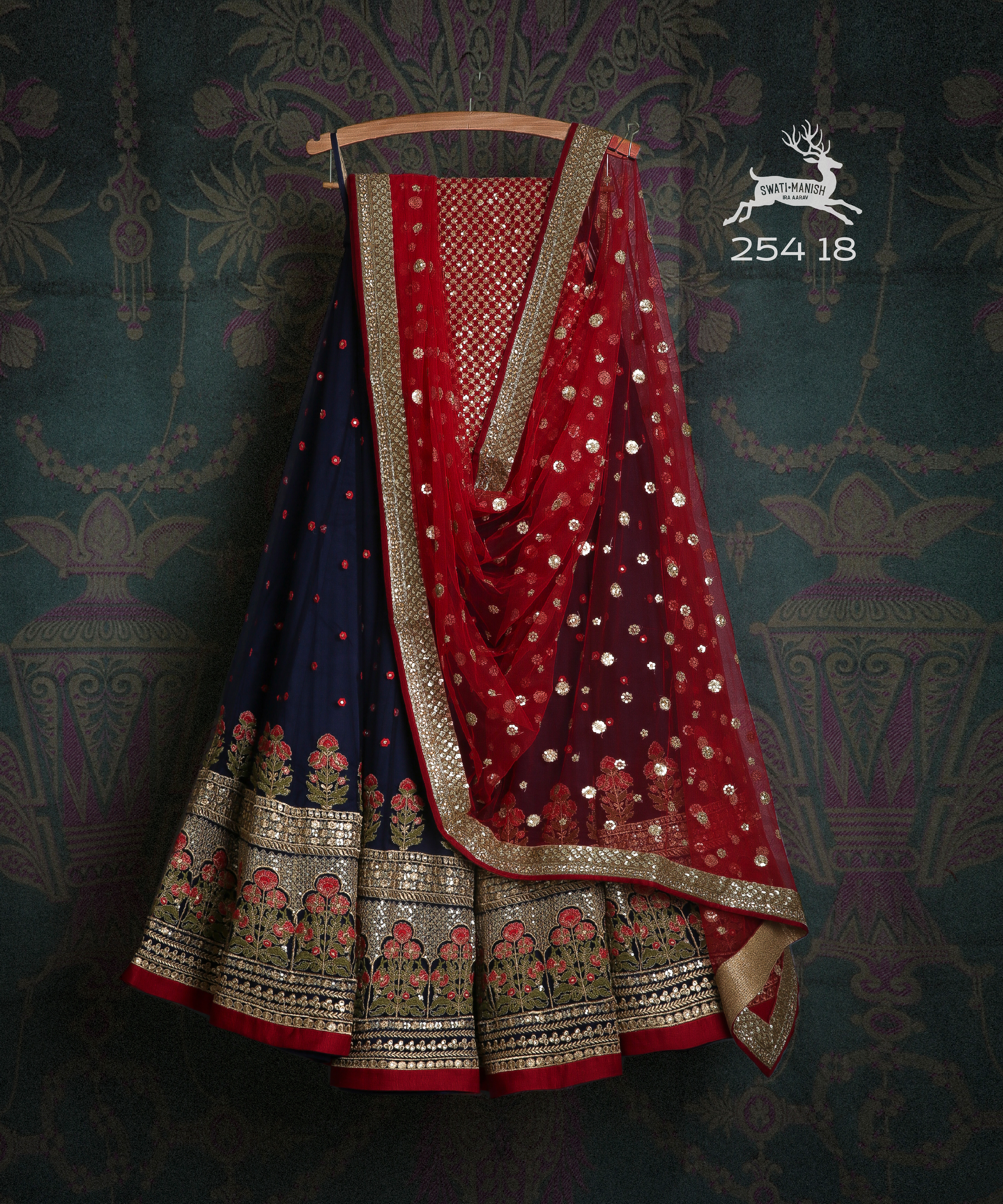 SMF LEH 254 18 | Navy blue lehenga with bright red sequin dupatta and red sequin blouse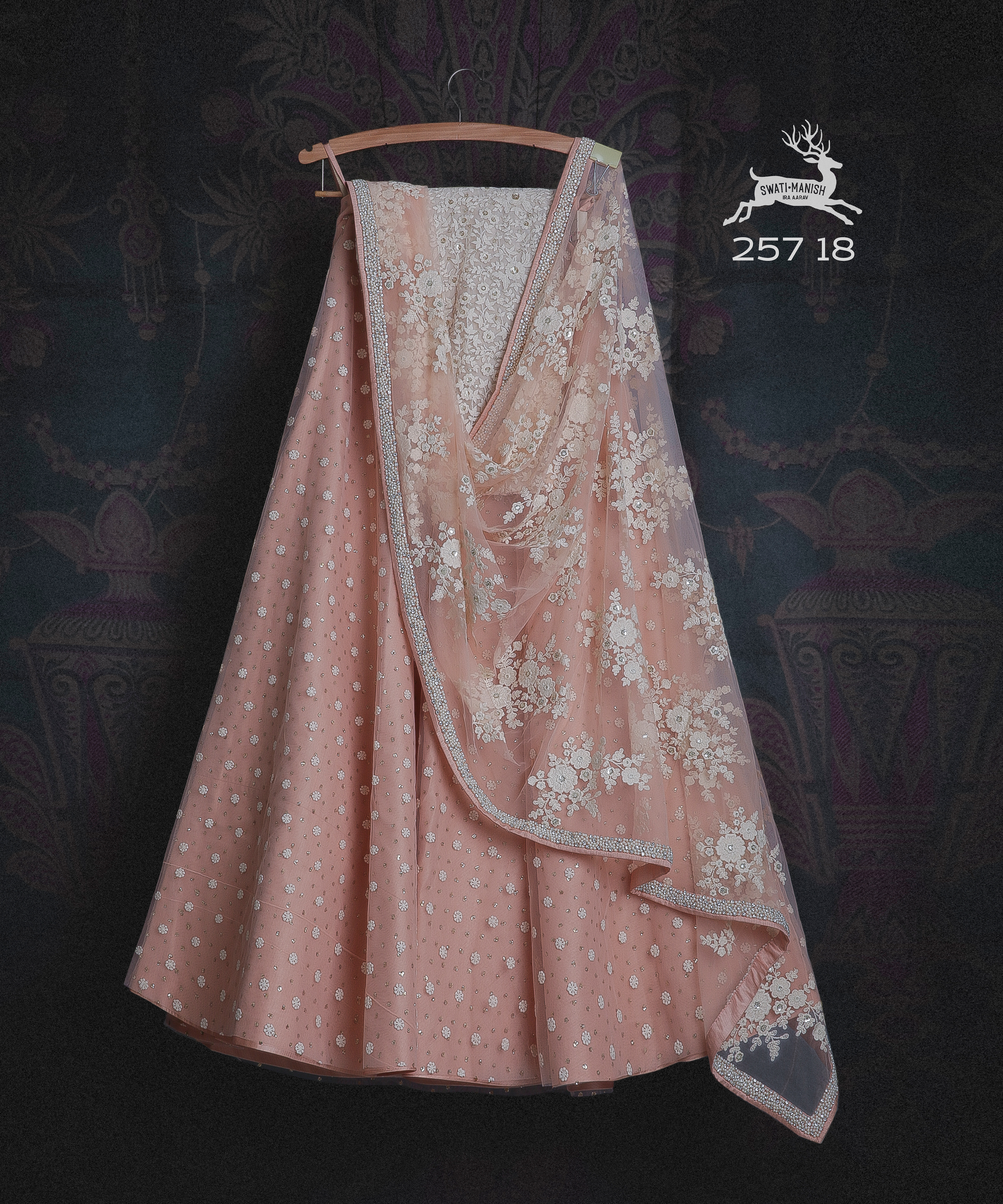 SMF LEH 257 18 | Dusty peach thread and glitter Lehenga with floral thread work sequin dupatta and white floral thread work sequin blouse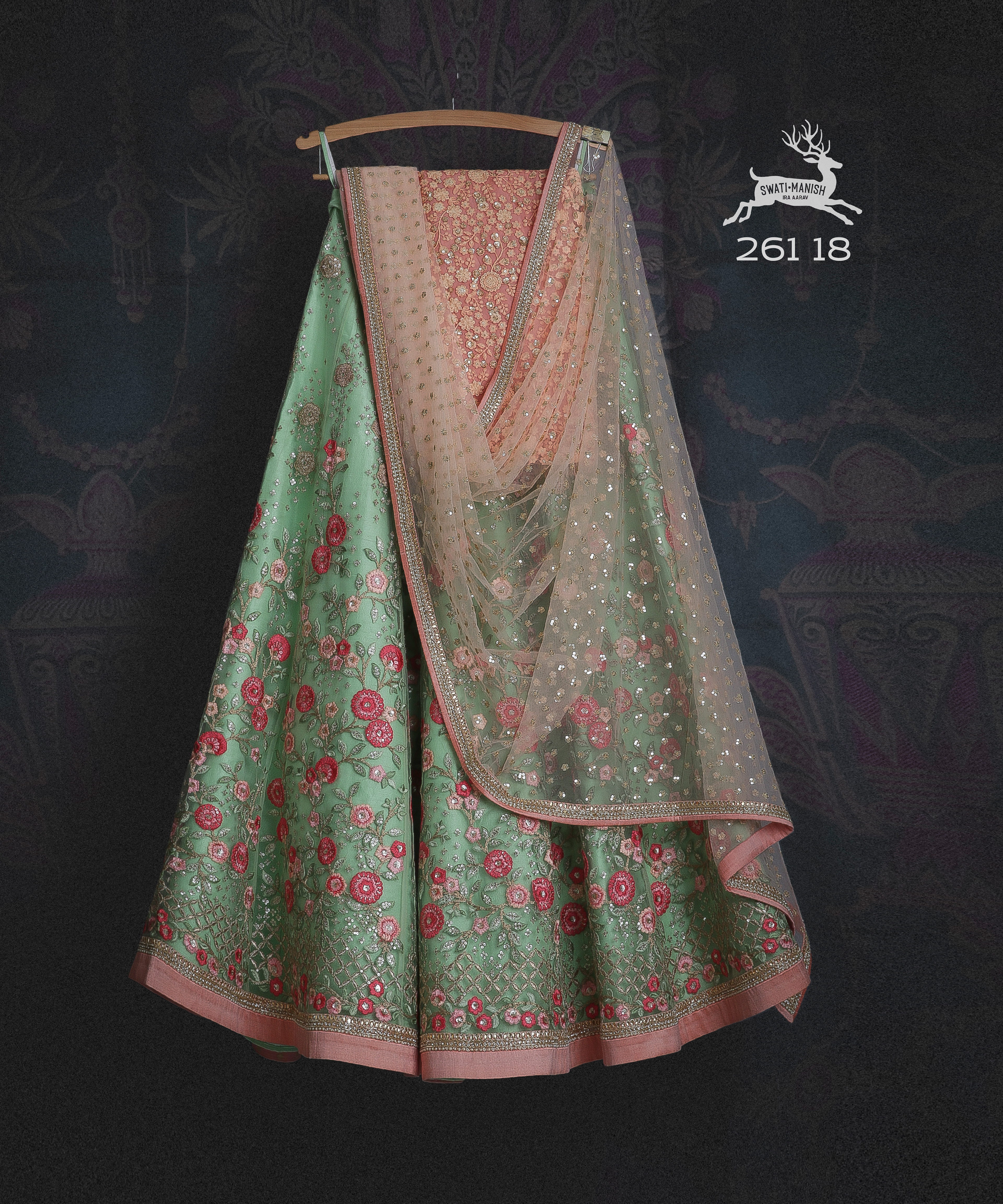 SMF LEH 261 18 | Mint green threadwork sequin floral lehenga with soft peach sequin dupatta and matching floral threadwork blouse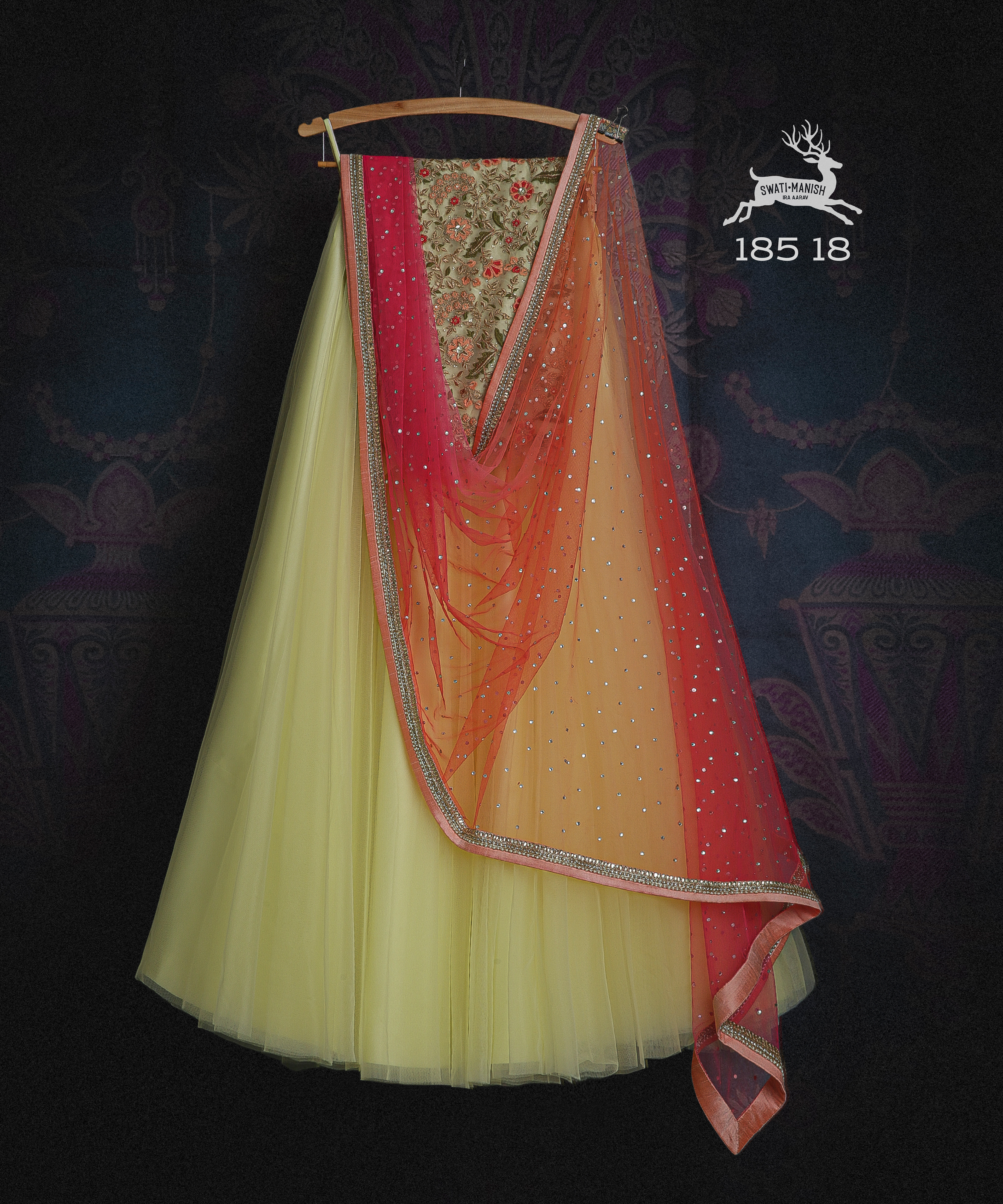 SMF LEH 185 18 | Ice lemon lehenga with pink-orange shaded diamond dupatta and floral threadwork and sequin blouse (3 pieces available)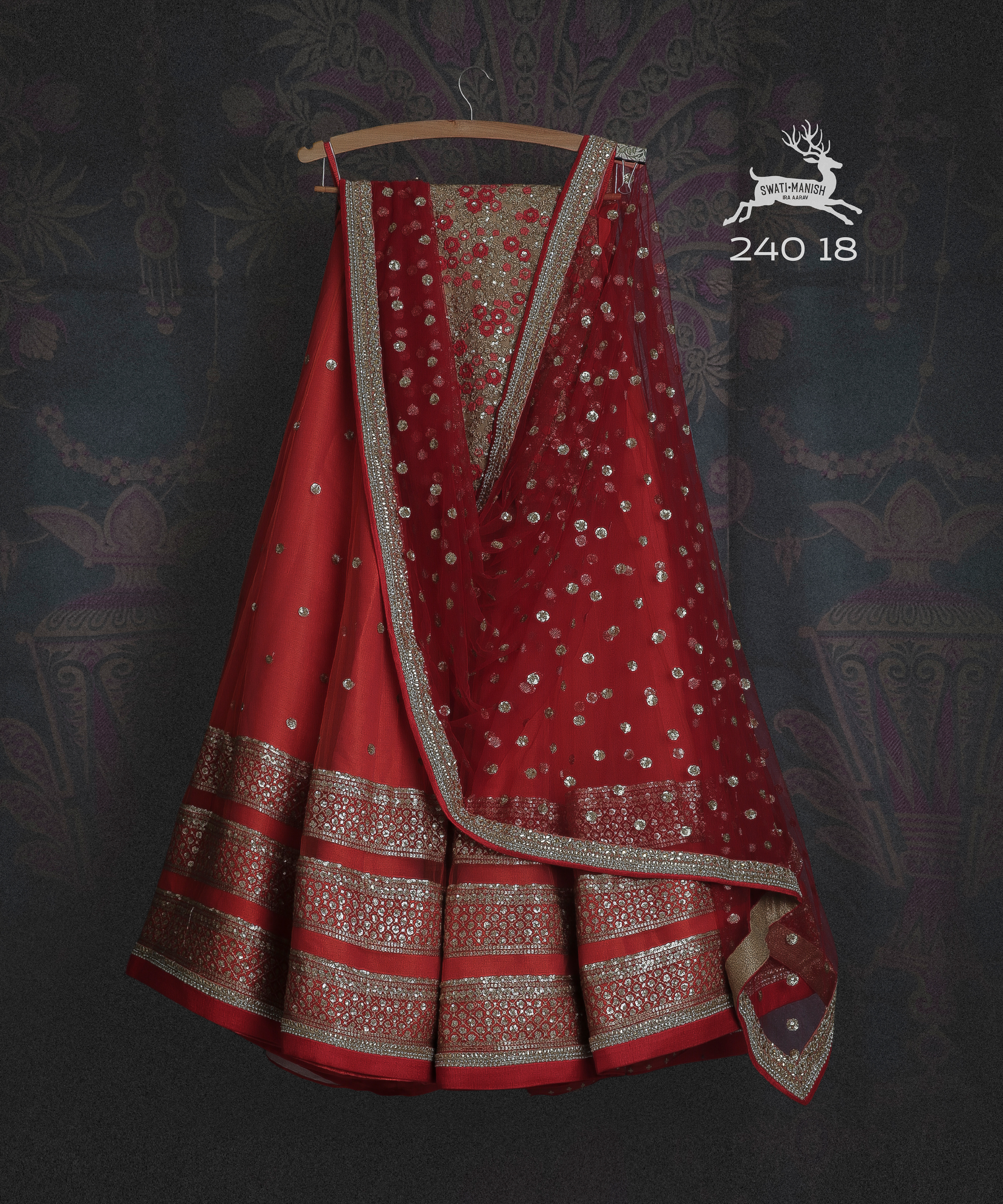 SMF LEH 240 18 | Vibrant orange sequin lehenga with red sequin dupatta and threadwork sequin blouse (4 pieces available)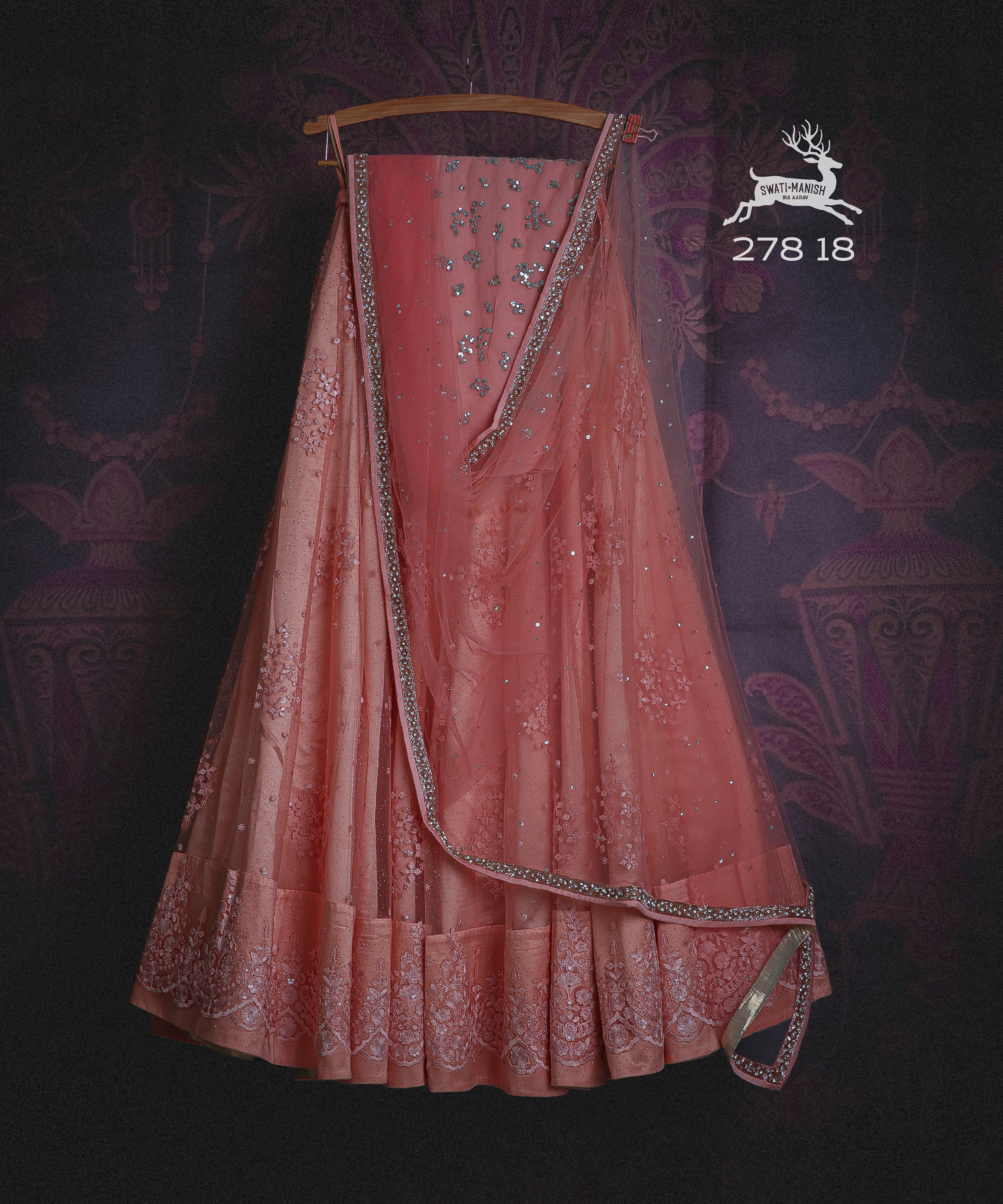 SMF LEH 278 18 | Bright peach soft glitter lehenga with matching shaded dimond dupatta and sequin blouse

The Lehengas are made in size 38" (waist) and 45" (length). Will be tailored to fit. Flair 4/5 meters
Lehengas Material:
1st Layer - Net / Raw silk / Georgette 
2nd Layer - Pure raw silk / Art raw silk / Satin / Satin linen / Cotton satin
3rd Layer - Satin / Art crepe / Butter crepe 
Cancan not included, available at additional cost. 
Dupatta Material: Net / Georgette 
Blouse piece: 1.25 meters, price inclusive of blouse stitching. Availability of extra fabric is limited and will incur an additional cost. The maximum length of the blouse can be 17" with a maximum of 11" sleeve length.
We don't customise.
Most lehengas are a single piece, the sold ones are no more available.
Please visit the store for a closer view. FaceTime/Duo/WhatsApp Video call on +91 97698 84264, Skype on 'SwatiManish'
Delivery: We deliver worldwide. We need 3 weeks for alteration and blouse stitching, 1 week for shipping. Shipping cost is in addition to the price of lehenga and will vary by package weight and address.
Return policy: We do not do returns or exchanges after the order has been placed.
Payment: Alteration and stitching starts after full payment is received. Payment within India via Cash, Cheque, Credit card, PayZapp or Bank Transfer. International Payment via Bank Transfer or Paypal (10% processing fees for Paypal)
Alteration and fitting: 
Any further alteration/changes post the agreed measurement and pattern will be Chargeable.
Prices are fixed.